Sell to 10,000+ consumers in just 4 days!
Meet your new customers at the PA Home + Garden Show. Qualified homeowners attend the show annually seeking helpful advice, solutions and new products for their next renovation, décor or landscape project.

The PA Home + Garden Show features high-interest exhibits, high-profile experts and the latest trends to bring in customers who are ready to move ahead with their home improvement projects.
Exhibitor Space Rates
Exhibit space rate $16.99/sq. ft.
Exhibitor Listing $99 (required)
Direct Sell Fee $250/booth
Corner Premium $150/corner
Main Aisle Premium $100/booth
---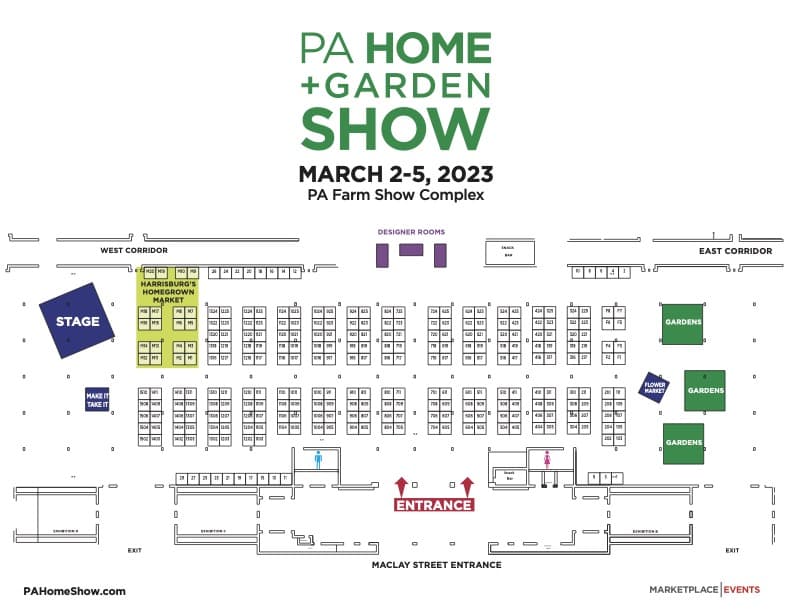 Contact our PA Home + Garden Show team for information

*Carpeting, tables, chairs, electric, etc... are not included with the cost of your exhibit space. An exhibit manual containing these order forms will be available online prior to showtime.

Here's what some Marketplace Events exhibitors have to say about our shows:
"Amazed"
"I'm truly amazed how quickly you built this new show in two short years. I can't remember the last time we went non-stop from opening to close. Many thanks for running a fantastic show."
Dan J., Denver
"First-Class Show"
"Thank you to everyone at Marketplace Events for putting on such a first-class show. We are very pleased with the traffic that you generated. Your professionalism and willingness to help us at every turn did not go unnoticed. We are looking forward to doing the show again next year."
Scott K., Cleveland
---
"Best Promoted"
"We experience shows all over the U.S. These events are the best promoted and staffs are the best you'll ever deal with. We would encourage any business to get involved with Marketplace!"
Dale D., Multi-Show Exhibitor
---
"Pleasure"
"Our company participates in more than 450 events each year for 32-plus years. We have worked with many promoters and can say with conviction that working with the team at Marketplace Events has been a pleasure."
Marianne B., Multi-Show Exhibitor
---
"Amazing Traffic"
"Amazing traffic, very well organized event. Marketplace Events made it so easy and were very accommodating. Highly recommended!"
David & Lori K., Philadelphia
---
"Great Show"
"Take a bow! You have a good business model for how to run a great Home Show."
Jerry J., Minneapolis
---
"Well Run"
"Very well run. Thank you, see you next year!"
Jeremy L., Buffalo
---
"Great Attendance"
"Marketplace Events does a great job of promoting their shows, which results in great attendance, great exposure and sales."
Mark C., Multi-Show Exhibitor
---
"Great Energy"
"It is always amazing to work with Marketplace... Great energy... Always great to be here."
Deb A., Multi-Show Exhibitor
---
"Remarkable"
"In a world where customer service has gone by the wayside, Marketplace Events is remarkable in assisting you with every question and concern."
Felicia W, Multi-Show Exhibitor
MEET WITH QUALIFIED HOMEOWNERS

90%
are homeowners

69%
have a project
in mind

68% plan to spend up to $25,000 with an exhibitor from the show within the next 12 months

71%
attend with a spouse or partner – meet BOTH decision makers

$110,000 average annual household income
Source: 2019 Marketplace Events Attendee Survey