BUILDING THE PERFECT FAMILY FUN ROOM WITH DESIGNER DENISE SABIA
Feb 3, 2020, 13:05 PM
When she's not busy designing fabulous features and coordinating the popular Make It, Take It workshops for the Philly Home + Garden Show, Denise Sabia is a DIYer, house flipper and in-demand designer behind The Painted Home. Her approachable charm and easy style have made her a local favorite, appearing on national and local TV shows, in magazines such as Country Living, and much more.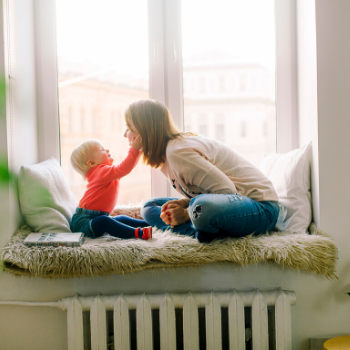 Denise lives in the suburbs of Philadelphia, PA. with her three kids, a dog, a hamster, and a revolving door of other "pets," so she knows what to include in a "Family Fun Room" that will serve as the perfect spot for all that a family needs and does together. See her vision, with items from HomeSense, at the Philly Home + Garden Show February 14-16. But first, enjoy our brief Q&A with the stylish designer below:
Q: What should always be included in a family fun room? Any absolute must-haves?
Denise: "Comfy seating! Even if it's a dozen bean bags. Create solutions that can accommodate large gatherings so that there's space for everyone."
Q: What are some activities to consider when designing a family room?
Denise: "Group activities, such as a board game or trivia game. Making it interactive is the key to the space being a place where memories are made."
Q: What kinds of fabrics or surfaces should be used if a family has kinds and pets?
Denise: "Always try to use pet-friendly and kid-friendly coverings such as leathers, vinyls, and washable fabrics."
Q: Show you let the kids get involved in the design or décor?
Denise: "I always keep the kids in mind when designing a space for kids or families. But, you can't give them carte blanche; a color they LOVE today might be hated next week. So, I try to find a few options that will work and that I think the kids will like, too - then let them choose from my selections. That way, I can still steer the project in the right direction, while still giving the kids a say in the overall plan."
Q: Recliners: yay or nay?
Denise: "The lifelong debate of husbands vs. wives! Recliners can be great, if you find the "right" recliner. And I'm on the hunt for one right now, so stay tuned and you can be the judge!"
Get tons of advice, ideas and inspiration for your home from the experts (like Denise Sabia) at the Philly Home + Garden Show. Pick up your tickets today!