TOP 10 THINGS TO SEE AND DO AT THE 2020 PHILLY HOME + GARDEN SHOW
Feb 1, 2020, 12:55 PM
At the 2020 Philly Home + Garden Show, there's more than ever before to enjoy - here's our handy guide to the Top 10 Things To See and Do, so you don't miss any of it!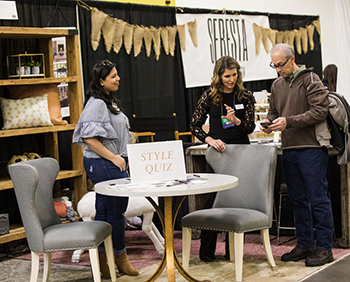 1.Lovely Gardens - For an extra-special Valentine's Day weekend celebration and a welcome taste of springtime, enjoy some wine from The Renegade Winery while you take a romantic stroll through "Love Grows Here," the Garden Hall's 7,500+ square feet of inspirational gardens. Captivating environments by some of the region's top landscape designers are enhanced by the fresh flowers and plants available from the Pop-Up Flower Market, the Garden Market, and the Succulent Bar.
2. Barry Williams - You know and love him as Greg Brady from TV's The Brady Bunch and HGTV's A Very Brady Renovation - now come see and hear actor Barry Williams at the Philly Home + Garden Show on Saturday, Feb. 15 at 1 pm as he talks about his illustrious career and his recent work renovating the "Brady home." He'll even perform some musical favorites!
3. Desert Flippers - Fan of HGTV's Desert Flippers show are in luck! Stars Eric and Lindsey Bennett will share their experience renovating homes in Palm Springs, answer home improvement questions, offer tips, and reveal why this married couple always makes it look like they're having so much fun. See them on the Main Stage Friday, Feb. 14 at 6 pm and Saturday, Feb. 15 at 11 am and 2 pm.
4. Refreshing Décor - Shopping for one-of-a-kind items is a fun and special part of the Philly Home + Garden Show. Join other treasure hunters in discovering hard-to-find and unique items for home improvement and decor at Habitat for Humanity's ReStore Pop-Up Shop, and visit Philly's Favorites Market for unique decor and special gifts from local artisans. Fresh, beautiful blooms and beautiful small gift items await you at the Pop-Up Flower Market by Cameron Peters, and gorgeous succulents of all kinds can be selected at the Succulent Bar by Floral & Hardy of Skippack.
5. DIY Fun - Making something new for your home by hand is satisfying and rewarding. It's why our free Make It, Take It workshops are so popular! You get to work directly with local designers, artists and crafters showcasing what's hot in DIY this year. Prepare to get your hands dirty, ask questions and test new products with the experts. Best of all, you get to bring the results of your efforts home with you! (Pro tip: space fills quickly, so get there early.)
6. Pet Products - Don't forget your pets while shopping at the show! Stop by The Barking Lot pet market for a new toy, treat or accessory for your four-legged family member - all of its vendors are donating a portion of proceeds back to the Pennsylvania SPCA to support its mission to protect and improve the quality of life for homeless animals. And this year, the adorable, adoptable dogs of PSPCA will strut in style during a special doggy fashion show on Saturday, February 15 at 12 pm!
7. Urban Farming - We're going to help you grow! Don't miss the "Do You Dig It?" exhibit to learn about edible landscaping, planting a children's garden (it's never too early!), raising chickens, beekeeping, and other horticultural interests. Experts will show and share what you need to know about these horticultural interests, and teach you some tips and tricks - whether you've just bought gardening gloves, or your motto is "garden more, work less."
8. Namaste At The Show - New this year: Start your Sunday at the Philly Home + Garden Show with an all-level yoga class overlooking the Garden Hall. Susan Madden-Cox of Ocean Earth Wind Fire yoga studio in Spring City, PA welcomes all to attend on Sunday, Feb. 16, with class starting at 10 am. Just bring your own mat or towel.
9. Outdoor Luxury - See how to "connect" your outdoor space so that it offers all of the comfort and conveniences of your home's interior, in The Connected Backyard built by Burke Brothers Landscape Design and powered by Xfinity. Bringing smart home technology outside will truly make it an extension of your home.
10. Happy Hour - You made it! Congratulate yourself in experiencing all that there is to take in at Philly Home + Garden Show by enjoying Happy Hour on Friday, Feb. 14 from 5 to 7 p.m. featuring Kiki Vodka's premium, vegan, locally-distilled vodka. All weekend, taste some of the delicious wines being served in the Garden Hall from The Renegade Winery, Stroudsburg, PA
Experience all this and more at the Philly Home + Garden Show, February 14-16 at the Greater Philadelphia Expo Center at Oaks. Don't miss it – get your tickets today!