Meet HGTV's Desert Flippers: Eric & Lindsey Bennett
On the popular HGTV series Desert Flippers, husband and wife team Eric and Lindsey Bennett transform outdated Palm Springs, California properties. At the Philly Home + Garden Show (February 14-16 at the Greater Philadelphia Expo Center at Oaks), they'll share how they built their real estate empire from nothing, their best lessons learned from doing more than 100 home flips in triple-digit heat, and how they juggle their three children through it all.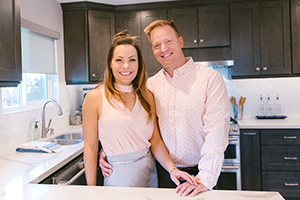 Before they arrive from the desert, we asked them a few questions:
Q. What tool should every homeowner own?
Eric + Lindsey: "A 25-foot tape measure. Any home improvement or design project begins with planning. Once we've dimensioned and graphed a space, the creativity and productivity can really begin!"
Q. Wallpaper: love or hate?
Eric + Lindsey: "LOVE! It's one of the best ways to add oomph to spaces big or small, and add a designer look for less."
Q. Are you a plant mama, or is your green thumb lacking?
Eric + Lindsey: "We LOVE real plants in our personal home for their natural beauty and benefits to the environment. However, when it comes to staging, faux is the only way to go. Fake plants may be more expensive, but they are easier to maintain and move and can last forever."
Q. What's your favorite paint color?
Eric + Lindsey: "Benjamin Moore 'Simply White'. We use a shade of white in almost all of our designs because it evokes a clean, fresh and timeless feeling. We add warmth and character with wood and leather accents. Depth with stone and concrete. White is simply the perfect backdrop to the elements of nature we incorporate into our designs."
Q. Any simple tips for upgrading a small bathroom?
Eric + Lindsey: "Simply changing out the vanity mirror and lighting can make such an impact on a small space. To really modernize the space, remove the vanity light and install a larger, backlit mirror that glows and complements."
Q. What are your best landscaping tips?
Eric + Lindsey: "Our favorite way to overhaul landscaping is threefold:
1) Lay the framework to include taller border plants and edging, feature plants, and baseline fill (grass, turf, rock)
2) Choose only three feature plants and repeat them throughout, tiering according to size and scale.
3) Create lush depth with taller perimeter plants, trees and hedges."
Q. Favorite room in your home?
Eric + Lindsey: "Our Great room. It's like Grand Central Station with our three boys running around. We work, play, cook, cuddle and entertain poolside in this room all year long. It's a blessing to have one large room that allows us to be a part of all the crazy of life happening around us!"
Q. Any furniture thrifting tips?
Eric + Lindsey: "We paint everything to transform it into something new and spectacular. It's not often in the budget to buy new. So we take what we have and transform it into what we want it to be. From mirrors, lighting and dressers, to concrete patios and pavers. A little paint goes such a long way toward transforming decor and more."
Q. Which HGTV / DIY Network star would you most like to work with and why?
Eric + Lindsey: "Definitely the Property (Scott) Brothers. They are just as talented, kind and down-to-earth in person as they are on TV. When it comes to renovation, a positive, problem-solving mentality is key. These two have it covered and are the perfect balance of serious and fun."
Q. What's your favorite part about speaking at a home show?
Eric + Lindsey: "We enjoy being ourselves and having fun with the audience! Eric loves to practice his stand-up comedy and I enjoy sharing all the tips and tricks we've learned along the way."
Don't miss your chance to connect with hundreds of trusted home experts, including Eric and Lindsey Bennett. Get your Philly Home + Garden Show tickets today!
Jan 30, 2020, 19:41 PM